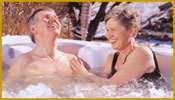 In today's hectic life of stress, noise and pollution we all need to find a way to relax and get away from it all. What would be better than a nice relaxing, quiet holiday every day. Well with a spa you can have the next best thing, your own relaxation time spent alone or with family and friends.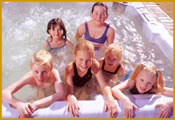 The spas are made of acrylic which is a non-porous material that is highly resistant to the chemical stains, high temperatures and overall punishment and the acrylic's high gloss finish is easy to clean which means less stress for maintenance. As for colors, you can choose your hot tub in shades ranging from soft and classic to bold and elegant so you can fit the spa into any decor scheme or landscape and all are created to keep their good looks for years.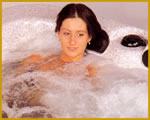 Hot tubs can be square, round, rectangular or octagonal. They are small enough to seat just two or big enough for family and friends and everything in between! The most popular type today is the self-contained spa, with all the necessary components - pumps & heaters tucked away inside the spa casing or if room permits under a convenient safety step. Installation is a breeze - indoors or out and the added benefit that you can take it with you if you move.

Some hot tubs offer multi-level seating for people of different body types, with varying jets & massagers, some feature comfortable built-in loungers and some even include sound systems. It's important to choose the hot tub that matches your idea of perfect relaxation and we at Atlantic Pools will help you do just that making sure that choosing the right spa or hot tub will not be an experience that makes you even more stressed out!

You may click on a spa model below for more information.
Garden Leisure
Spas

Pric

e Tax Included

Shipping/Handling

Daisy

Free

Azalea

Free

Desert Rose

Free

Camellia

Free

Deser

t Rose Platinum Series

Free

Jasmine Platinum Series

Free
Garden Leisure spas have the best warrantee in the industry. Please click here for details.